Posted on Friday, March 17, 2023 - 11:03
Spring is in the air, and I can't wait to get outside to enjoy nature's playground on a regular basis.  We're well into the new year, but I wanted to connect with you to provide some updates and introduce myself.
Last June, I was named the new Director of the Division of Loan Repayment within the NIH Office of Extramural Research.  In this role, I'm responsible for administering and providing leadership for the NIH Loan Repayment Programs (LRPs) as well as representing NIH on matters related to the operations, policy development and evaluation of the LRPs.  When I learned that I was going to be the new director, it was a surreal feeling for me because this was where I started my career as a student intern.  Talk about a full circle moment.
As you know, the period to apply for FY 2023 LRP awards closed in November 2022, and we received more than 1,900 applications - all of which are currently under review. If you're curious about when funding decisions will be announced, take a look at our application cycle timeline. Remember that more than 1,300 scientists benefit from the over $90 million NIH invests each year through the extramural LRPs. On average, nearly 50% of all new LRP applications are funded, and these awards are competitively renewable (for a one- or two-year period) until all educational debt is repaid.
In the spirit of data, this is a reminder that we've recently updated our data dashboard to reflect FY 2022 statistics including our newest subcategory, Research in Emerging Areas Critical to Human Health (REACH LRP).  Key features from the Dashboard include:
Ready access to 10 years' worth of program statistics

18 data widgets that can be adjusted/filtered by year, LRP and award type

Easy export of all data to an Excel compatible format
I would like to personally thank all of the LRP Ambassadors, and champions of the programs for spreading the word and encouraging your colleagues to apply. Whether it's a tweet, email, call, or text message – your efforts are invaluable! If you think your institution or organization could benefit from a presentation about the LRP, send an email to lrp.communications@mail.nih.gov and we will be happy to schedule something. We also host several events leading up to the application submission deadline so if you'd like to stay informed, feel free to subscribe to our mailing list.
If you or one of your colleagues plan to apply for during the upcoming cycle, now is the time to reach out to an LRP program officer to discuss your research and career interests as it relates to the research and funding priorities of the selected IC (Institute or Center).  If you need a little inspiration, check out the Q&A with Raushanah Newman, Program Officer in the Office of Research Training and Special Programs, at the National Institute of Allergy and Infectious Diseases (NIAID). 
While traveling to scientific conferences last fall, I had the opportunity to meet hundreds of people at various stages of their education and/or research careers from all over the country.  I was especially struck by how different people had common misunderstandings about the LRP.  In response to that, we've put together a handy document that dispels some of the misconceptions about the LRP that seem to be floating around in the extramural research community.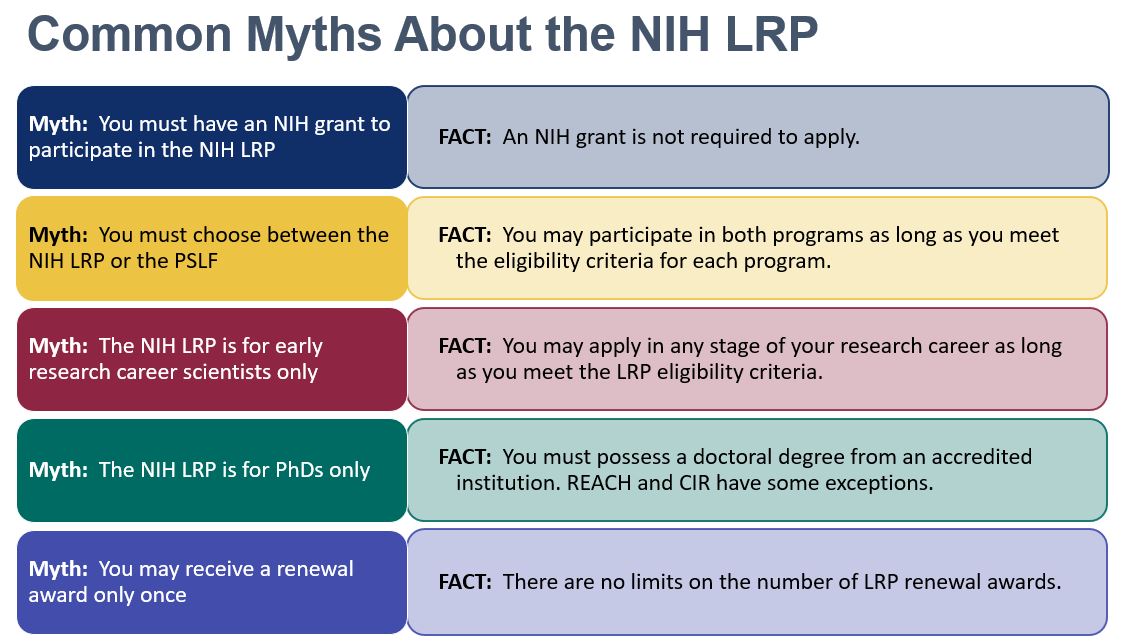 The period to apply for FY 2024 LRP awards opens on September 1, 2023 and closes on November 16, 2023. For additional assistance, call or e-mail the LRP Information Center at 866-849-4047 (Mon-Fri 9:00 a.m. to 5:00 p.m. EST) or lrp@nih.gov. You can also follow us on Twitter and Facebook for more information about the LRP, including program announcements and updates.